Geese to a Poor Market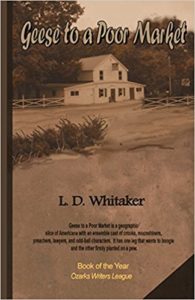 Reviewed in St. Louis Post–Dispatch
L.D. Whitaker works as a lawyer for a federal agency and lives in Jefferson County. But he grew up in the Ozarks in south-central Missouri — the setting for his first novel, "Geese to a Poor Market."
About that title: Selling geese to a poor market is an Ozarks metaphor for selling yourself or your goods for less than the value. And in fact, lots of dubious dealings turn up in this entertaining tale.
The book opens in 1955 as Rita Sanders heads toward her girlhood home in the Ozarks, her 7-year-old son beside her as they drive away from a philandering husband in Iowa. Much of the plot — such as it is — concerns the struggle by her estranged husband and his ally, Rita's mother, to take custody of the boy away from Rita. You see, she has taken to living in unmarried sin with Sam Rockford, who owns the honky-tonk where she works as a waitress.
The tavern owner is a Navy career vet and a good man, although his honky-tonk leaves a lot to be desired. Whitaker calls it "a southern Missouri beer joint on U.S. Highway 60, just outside the city limits of Birch View, a roll-up-the-streets-after-sundown village of 432 residents, according to the road sign … During the week, Club 60 was an oasis for bib overall working men from the logwoods and sawmills, but on Friday and Saturday nights, it was a honky-tonk where people danced to the jukebox or, occasionally, a live country western band."
The book's revival of a nearby place at a long-ago time (a time when you could fill your gas tank for $2.50) gives it a special charm. So do Whitaker's characters — some of them rural hicks, some of them county sages and even a surprisingly sophisticated down-home lawyer, J. Bob Dalton, a regular at Club 60.
Even though the plot skips and jumps, the rich rainbow of local color makes "Geese to a Poor Market" fascinating reading, at least for Missourians. (Yes, the plot includes a few sneering big-city types from St. Louis who show up in the Ozarks but prove to be no match for the quick-witted locals.)
Although this book is Whitaker's first novel, he has produced lots of Ozarks-based short stories and essays. If we're lucky, he'll give us another novel.
–Harry Levins, Special to the Post–Dispatch, Posted Saturday, March 31, 2012
Reviewed in Missouri Life Magazine
"Memories of Ozark history stir up some familiar chuckles and tender emotions, as is the case with L.D. Whitaker's novel.  Set in the 1950s, the story opens with young mother Rita Sanders on the road to Tremont, her childhood home in the Ozarks, after her truck-driver husband leaves her.  When she takes a job in a local honky-tonk, Rita ends up with a little more than she bargained for, including the disapproval of her devout mother and the attention of a ruggedly handsome new boss.  Whitaker, who lives in High Ridge, weaves a story of back-home folks and country livestyles.  He combines action with characters to portray a rural family facing hardships and heartache in the Missouri Ozarks.  Readers will feel the spark of hope that can only come from good friends, the love of a family, and new beginnings.
–Melissa Williams
Lonnie Whitaker acknowledges Missouri Life in the book, as the first to buy a story from him, thus helping him to think of himself as a writer.  Missouri Life published both "When TV Came to Montier," (April 2001) and "Memories of Country School Days," (August 2001).
–Editor
Author's note: I'm still grateful a quality magazine such as Missouri Life provided a springboard opportunity for me.
Reviewed in The News Gazette, Champaign, IL
By Margo L. Dill
L. D. Whitaker's debut novel, "Geese to a Poor Market," is an entertaining read, as he takes us back to the Missouri Ozarks during the 1950s. There's love, revenge, gambling, honky-tonks, revivals, adultery, gun fights and more with a cast of characters that are lively and fun. Whitaker provides a page-turning plot all the way to the end. Anyone familiar with the Missouri Ozarks or the 1950s will appreciate this novel and hope Whitaker is working on his next.
It starts with Rita, a mother fleeing, with her young son, Wesley, from her cheating husband. She's going back to her roots, back to Tremont, Missouri, to start a new life for Wesley and her. She plans to live with her parents, which can be a blessing and a curse when her mother, Beluah, is Bible-toting and judgmental.
Rita wants to get a job and goes to the first place where she's offered one—at Club 60, a bar with an attractive owner, Sam. She and Sam soon start a relationship, and Beluah neither approves of Sam or the job for her daughter.
Besides the story of Sam, Rita, Wesley, and Beluah, as well as Rita's husband who wants custody of Wesley, readers are also introduced to other colorful Ozark characters, which make this novel fun. Although sometimes there seems like a lot of characters thrown into the mix, Whitaker does a good job handling them and tying up the many subplots at the end of the novel.
There's Big John, who owns a "rival" bar and likes to set up gambling opportunities for big city visitors from St. Louis. These gambling opportunities always have an ulterior motive, from loaded dice to fixed poker matches. J. Bob is one of the attorneys in town who likes his liquor, but he knows a bit about the law, too. Then there's the Collier brothers, Ethan and Elvin, who are criminals, and get another thing coming to them when they mess with Sam and Big John.
The novel gets it's interesting title, "Geese to a Poor Market," from a common Ozarks expression, which Beluah says to Rita when she discovers her daughter is looking for a job as a bar waitress. The expression means selling yourself or your products for less than their worth. In Beluah's opinion, this is what Rita is doing, as she tries to put her life back together as a single parent and becomes employed at Club 60.
Although Whitaker is a devout Missouri Tigers fan, readers in East Central Illinois shouldn't hold that against him and his first novel. He currently lives in Jefferson County, Missouri, but he grew up in the Ozarks, attending a two-room school house. He attended Missouri University Law School and works his day job as a district counsel for a federal agency. "Geese to a Poor Market" won the best book of the year (2011) from the Ozarks Writers League and was placed in the Missouri History Museum Library.
So, grab a glass of lemonade this summer, and re-visit the 1950s with Whitaker's debut novel. Not a bad way to spend a summer day!