"What happens when you cross Norma Rae with Thelma and Louise? You get a Waltons-on-steroids slice of rural Americana called Geese to a Poor Market. Lonnie Whitaker has cooked up a batch of literary White Lightnin' that you shouldn't miss."

                      ~~ Jim Bohannon, Westwood One Radio
Click HERE to purchase from Amazon.
________________________________________________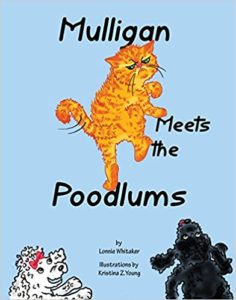 What happens when Mulligan, a chili-loving tomcat, learns that he will no longer be the only pet in the home? Well, he gets a little grumpy. Mrs. Casey and her husband plan to adopt a poodle puppy. When Mr. Casey returns home with two puppies, everyone is happy…except Mulligan. He does not want to share anything with bouncy, drooling puppies. To Mulligan, these poodles look like hoodlums that will steal his toys. That is when he decides they must be poodlums. Mulligan's grumpy suspicions land him smack-dab into a heap of trouble. Will the Poodlums help or steal Mulligan's new toy? Find out by enjoying this fully-illustrated tale that will delight readers of all ages, especially those who love cats and dogs.
Click HERE to purchase from Little Hands Press.
Click HERE to purchase from Amazon.