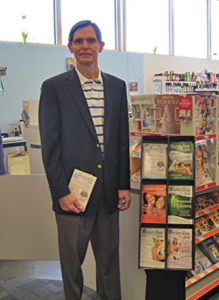 Lonnie Whitaker's first novel, Geese to a Poor Market, was published September 2010 and was awarded the Ozark Writers' League Best Book of the Year. His stories have appeared in Chicken Soup for the Soul, Missouri Life, The Ozark Mountaineer, Echoes of the Ozarks, Cuivre River Anthology, and he has received awards in nationally advertised fiction contests.
He served as an editor for Peculiar Pilgrims: Stories from the Left Hand of God, (Hourglass Books, 2007), and as the literary fiction editor for High Hill Press (2012-2017) He was awarded the 2005 Starr Fellowship at the Writers Colony at Dairy Hollow. His short story, "A Story Finally Told" was published in Mysteries of the Ozarks Volume V, October 2017. (Also available on Amazon.)
Lonnie's first children's picture book, Mulligan Meets the Poodlums was published November 2017 by Little Hands Press. His western short story, "Coffin Nails in Callaway County" will be published in the first anthology by Five Star Press, an imprint of Cengage, June 2018.